Required Compliance and Security Solutions with Managed IT Services from Vector Choice
Welcome to Vector Choice Technologies, where we're revolutionizing the IT industry with our cutting-edge approach to servicing CPA and Accounting firms. We pride ourselves on being the leading provider of top-tier IT solutions, designed exclusively for medium to large, multi-location firms across twenty-three states, from the East Coast to the West Coast. Vector Choice is an award-winning Managed Service Provider and consecutively ranks at the top among our peers and as one of the best IT companies in the USA.

Our unique approach to fully managed IT services eliminates downtime entirely, allowing your firm to work uninterrupted, increase your overall profit, decrease and eliminate cybersecurity threats, all while maintaining compliance.
Interested in Managed IT Services for CPA's & Accountants?
What We Do
We offer a wide range of managed IT services and solutions for finance businesses, including:
Cybersecurity

Business Intelligence

Cloud computing
Compliance Consulting
With Vector Choice Technology Solutions at your side, employee productivity is maximized, and you'll see an average increase of 10% in your overall profits within your first year of service. Best of all you and your employees will have access to our industry best training, as well as managed IT and tech support and managed IT services.
Let us take care of your business's IT issues so you can focus on what you do best - Growing and Operating your CPA and Accounting Firms.
Unified Protection
Introducing a New Era in Cybersecurity
Vector Choice's Cybersecurity and IT Managed Services are two of our award-winning services we offer. By investing in training and certifications for our employees and providing industry-leading support and IT service management, we've quickly become one of the nation's top cybersecurity companies. We are aligning our services to offer a unified security platform that provides complete protection for your entire organization.
Gain real-time visibility into your security posture.
Respond to threats quickly and effectively.
Reduce your risk of a data breach.
We are excited about our new expansion including IT services for CPA and accounting firms. Additionally, we are officially in 23 states all over the US. We are confident that our new locations will allow us to better serve our clients and provide them with the managed IT solutions and services they need to succeed.
Managed User Services
In & Outbound Email Spam Filtering
White and Blacklist in Spam Filter

Data Loss Prevention
100% Satisfaction Guarantee
Security Operations Team
No Voicemail Guarantee on Support Line
Industry Leading IT Support for CPA & Accounting Firms
Managed Site Services
Firewall with IDS/IPS
Site to Site VPN
Web Gateway Security
Cover Termination Fees with Current Provider
First 6 months are on a month-to-month basis for 3 year contract
3rd Party Chief Information Security Officer and a Chief Information Security Officer on Staff at Vector Choice for cybersecurity and compliance consulting.
Endpoint Security
Endpoint Protection
All The Time VPN for Computers
Anti-Ransomware
Multi-Engine Proxy Scanning
Real-Time Visibility
Single Source Solutions
WEBINARS
5 Tips To Hire the Best IT Company For Your Business
Protecting Your Financial Future: The Top Technology and Security Strategies Every CPA and Client Needs to Know
How Outdated Technology Can Slow Down Your Business
FTC COMPLIANCE

The new FTC regulations require businesses that work in finance, especially businesses dealing with taxes, to hire a qualified individual to create a written information security plan and enforce it. Vector Choice can help you comply with these regulations by providing managed IT services that include a Chief Security Officer (CSO).
Vector Choice's CCO is an industry leader and subject matter expert on Compliance. Security and compliance should enable business operations by allowing senior leaders to make informed risk decisions while protecting critical business functions. Vector Choice will assess your current environment against what is now required by the FTC regulations. We will work with you to develop a business strategy, budget, and timeline to fill any gaps in your compliance.
By hiring Vector Choice as your managed IT services provider, you can be confident that your cybersecurity is meeting the compliance requirements. Our fully managed IT security services are cost-effective and only billable in 1 hour a month. This means that you can have the peace of mind of knowing that you are compliant without having to hire a full-time CSO and working with one of the top Information Technology consulting firms and MSP'S in the nation.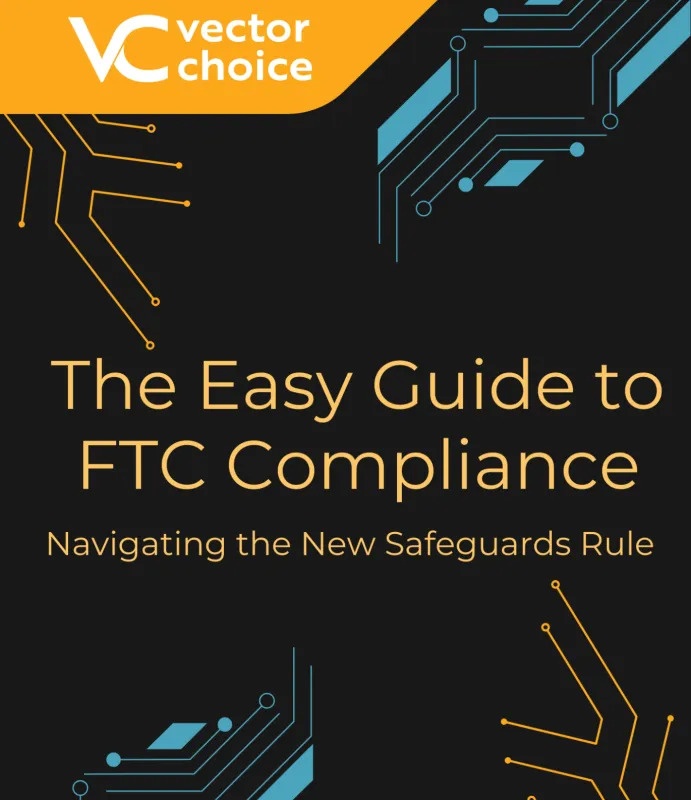 What You Should Know About The FTC Safeguards
The FTC Safeguards Rule is an important set of regulations that help to protect customer information. Financial institutions that are subject to the rule should take steps to comply with it in order to protect their customers' data and avoid financial penalties.
Read This Easy Guide To Learn Requirements, like:
Designating a qualified individual to oversee your information security program

Implementing appropriate access controls to customer information

Encrypting customer information in transit and storage

Regularly testing and evaluating the effectiveness of the information security program

Designating a qualified individual to oversee the information security program

Developing and implementing written policies and procedures for information security
To Claim Your Free FTC eBook, Click The Button Below!
Get Your Free FTC Compliance Guide!
What Our Clients Say About Us
With Clients In Multiple Industries, Learn What They Have To Say